Longarm Services

Let us finish your quilt so you can go on creating new masterpieces!
Digital Machine Quilting starting at $.02 per square inch!

Our Longarm Studio
Our studio is equipped with an HQ Amara computerized longarm on a twelve-foot frame. We specialize in edge to edge (E2E or B2B) machine quilting. The same pattern is used across the whole quilt resulting in a clean professional look. We do not do custom quilting. While we greatly admire those who excel at the art of custom quilting for heirloom and show quilts, this is not our area of expertise.

With 25 years' experience quilting, here at West Valley Quilting, we understand the time, effort, and expense that went into your quilt. Whether you are entrusting us with a gift for a loved one or a quilt going to charity, each quilt is handled with care and returned to you within two weeks.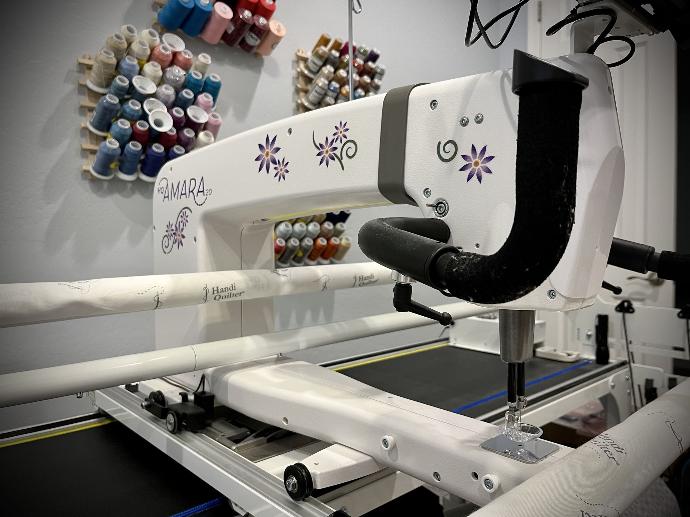 Our process is straight forward. Simply click on the 'Get Started Now' button below, enter your quilt size, pick your pattern, thread color and add-ons. Then package and send your quilt our way. We will take care of the rest and provide you with updates along the way!
Add your details
Tell us about your quilt and how you want it finished.
Receive Quote
You will receive a quote via email detailing the costs for your project.
Send us your quilt
Package up your quilt and ship it to us.
Magic Happens
Your quilt is transformed as the longarm performs her magic.
We send it back
Within two week of receipt, we will ship your finished masterpiece to your door.
Disclaimers - These are important! Please read them before you send your quilt.

We have never lost a quilt to the machines. However, the Longarms are an amazing collection of precision metal parts with rapidly moving motors, needles, wheels, etc. One day we are bound to have the machine accidentally tear a quilt. We are not responsible for damage to the quilt caused by the machine (we are sure it will not happen to your quilt!).
Thread color matching is done as close as possible. If you have us pick the color, we will match the thread to the quilt as close as possible, but we are not responsible if you don't like the color we pick.
If you pick the pattern and the thread color (see note above) and are not happy with it when you get it back, there isn't anything we can do about it. Unstitching a quilt is not an option. There will be no refunds due to thread color or pattern selection.
Shipping -- We return ship with UPS ground. UPS assumes a maximum of $100 liability on every package. A higher value can be declared for an additional fee. If you would like your quilt 'insured' for more, please let us know in the notes section of the order form and we will invoice you separately for the additional insurance.
Make sure to check our Terms and Conditions.